Pokémon USA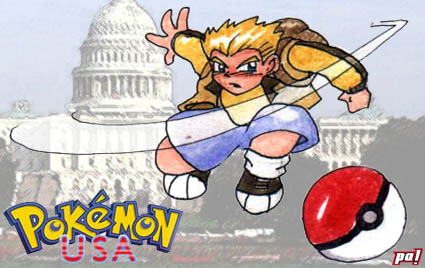 In the regular Pokémon series that you watch on TV, you follow the adventures of Ash, a kid on Pokémon Island (or where ever he is, my guess is Japan).
But what if different Pokémon were found all over the world? Would there be a totally new 150 Pokémon found in Germany? Africa? Perhaps, the United States of America?? Why not?
As you can tell, Pokémon USA explores that thought by following a different kid, Seth, who lives in California and wishes to become a Pokémon Master in America. Pokemon USA includes an array of totally new and original Pokémon, Gym Leaders, locations, stories, Pokémon abilities, and other characters that revolve around Pokémon found in America.

Here's some info on Pokémon USA:
• Pokémon USA Edition Fake Cards (cards by Terry & Brian Tibke and Me for Pokémon USA. This page also gives you a sneak peak at all the new Pokémon in Pokémon USA!)
• Characters (includes images and profiles of the different characters in Pokémon USA)
• Pokémon USA Pokédex (a giant downloadable poster of all the Pokémon in Pokémon USA!)
• Locations (Find out where all the new Gyms are and other important cities)
• Stories (Stories written by Terry Tibke for Pokémon USA. Dig it!)