Base Set 2 Info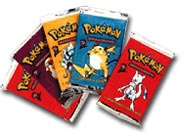 The original Pokémon TCG set is getting a make-over. Huh??
So really... what is Base Set 2? Here are the facts:
Set Size: Base Set 2 contains 130 cards, which are a combination of cards found in Jungle and Base Set (the first set).

Since Base Set + Jungle = 166 cards (way more than the 130 said cards in BS2), this means some cards will not be reprinted. Here's a list of cards not making an appearance:

Gone from Base Set:
Koffing
Porygon
Ponyta
Revive
Devolution Spray
Clefairy Doll
PokéFlute

Gone From Jungle:
Oddish
Gloom
Vileplume
Eevee
Vaporeon
Flareon
Jolteon
Manky
Primape
Rapidash

Release Date: February 28th, 2000

Other Goodies: A new feature with Base Set 2 is the introduction of the Japanese Holo Foils on American cards. Wow!!

Symbol: The symbol for BS2 is a "2" with a Poké Ball in the middle:

What else do I have for you? I've got:
• BS2 Preconstructed Deck Info
• Why should WotC make BS2?
(To view the cards in this set, along with combos and ruling, click on the Card Archive link on the sidebar.)